Era of immediacy: what challenges for the fashion industry on social media?
Who says end of the year no longer says only family celebrations and reunions but also an avalanche of "trends" which, we are assured, will make the year to come.
Among them, social media trends are spreading like wildfire on the web, at a time when agencies as advertisers are raging about the contribution of social networks in the media and creative sphere. And while the post-Me Too era will no longer leave room for sexism and vertical video is becoming the norm, on the retail side, it is social media that will continue to be taken over by industry of the fashion to which the innovations of the social giants offer increasingly sharp areas of expression. An opportunity for brands but also a major challenge: giving new meaning to content in a context where snack content, bloated but soon boring, continues to reign supreme.
Retail: an exemplary digital transformation
"Hundreds of millions of people will follow us live on social networks and will be able to afford the article they like as soon as possible. We are writing a new chapter in the history of fashion," confided Tommy Hilfiger in the Journal du Dimanche, at the dawn of the presentation of his spring-summer 2017 collection. A revolution was underway.
A year later, "See now buy now", which short-circuited the time between a fashion show and the sale of ready-to-wear collections, is no longer an option. Anecdotal? Not really. This trend marks the advent of a new dynamic of immediacy imposed by social networks and to which the biggest labels, from Burberry to Alexander Wang, are bending to meet the demands of an increasingly pressed clientele of show the latest it bag to their Instagram followers. In this game, the fashion leaders are not outdone. Of the billion social network users, 83 million follow Nike while Chanel, Louis Vuitton and Zara accumulate some 30 million fashionistas each.
Not to be outdone: the designers, some of whom, like Olivier Rousteing, artistic director of the house of Balmain, are real Instagram stars. Influencers in their own right, they no longer hesitate to advertise themselves as such to their communities, as developed as those of the brands to which they praise their creativity. A reality that is reflected in our new media consumption habits: we officially spend more time on social networks than in front of television. According to the Global Web Index, 50% of Americans use Facebook daily and only 39% watch the small screen daily. A widening gap if we focus on millennials.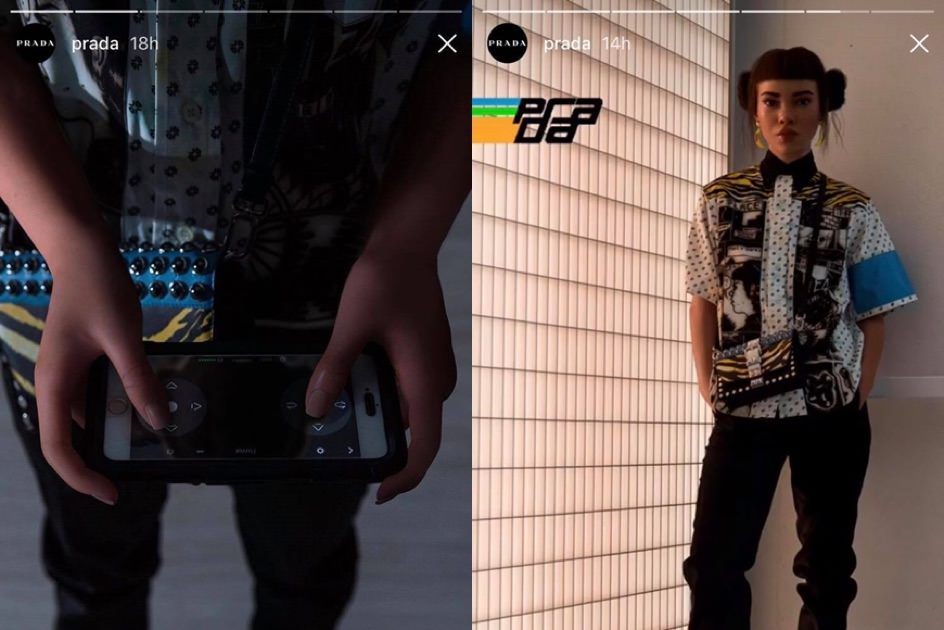 Fashion offers a new luxury: accessibility

Among these millions of subscribers, potential customers but not only. On Instagram, a war of notoriety is at stake, and the new guest at the party is the general public. To seduce him and make him adhere to their visions, the big luxury houses were the first to revisit their creative strategies to incorporate new communication practices - from stickers to stories to lens - and especially new codes.


The street has taken over fashion so fashion has taken over the street. A streetwear trend that settles permanently over the seasons and collections. Add to that less exclusionary communication strategies, live on social networks in mind, and you no longer need to be a VIP to attend a Hermes or Dior fashion show. Membership is immediate and is felt directly on the feeds of brands that no longer hesitate to revalue "User Generated Content", content created directly by aspiring fashionistas.
The advent of social commerce: from mobile shopping to in-app shopping
But from follower to client, there is only one step. Already present in trends last year, "social commerce" should see an even more meteoric rise in 2019. According to the specialist Retail Dive, 80% of generation Z is influenced by social networks in their consumption. Brands and social media have found a point of convergence and a common goal: to offer a customer and advertising experience to Internet users wherever they are, that is to say on social networks. Facebook has thus created its Marketplace, Instagram deployed a functionality and Pinterest based on its Shop the tool. A great opportunity for creativity as well as for business, driven by increasingly significant advertising investments. Social giants, Facebook and Snapchat on the front line, support brands in an unlimited exploration, always at the service of innovation. The next challenge for the tandem will be to streamline the purchasing tunnel to adapt it to these new standards.
The necessary advertising investment is no longer enough

In a context where the content floods our feeds, regulations come to reduce the precision of targeting and Facebook, the advertiser's first advertising budget, admits having long inflated its stats to encourage investment. Propaganda that turns to indigestion, particularly among millennials, ultra priority target of advertisers. As The Daily Beast recently described, supporting evidence, "Generation Z is bored on the internet." So how do you get the attention and buy-in of a target who is constantly shaking up the codes and whose expectations are increasingly demanding?
This unbridled innovation extends to brands, giving rise to the emergence of "born social" labels which, as the name suggests, were born and developed on social networks. Behind these brands, entrepreneurs with sharp business plans who have been entitled to their own annual fair in Paris since 2017, the Salon des Instapreneurs. This redistribution of cards challenges the cocktail mixing creativity, business and communication, like Kylie Jenner, on the way, thanks to her cosmetic business launched on Instagram, to become the youngest billionaire in history.
A millennial requirement, between advertising message and brand content
For the fashion sector, today, there is a need: to stand out while maintaining a coherent voice, which is part of the brand's DNA. The ephemeral one shot and muse campaigns give way to a deeper reconnection of the brand with what makes it strong and different: its values. To do this, one key word: brand content.
In the form of articles, video capsules or podcasts, brand content will be the watchword for all brands wishing to tell a story, to tell themselves. Because to conquer this new generation, it is necessary to have things to say.
Main challenge: to conquer a new generation that plays with codes
While their elders have shaped self-centered generations, millennials have paved the way for engagement at the societal level. To interest them, no brand can now neglect their expectations and their claims. One of the first brands to have fully integrated it was Nike, which was again recently illustrated by having its values carried by Colin Kaepernick, FNL player banned by the sports industry for his commitment against racial violence in the United States. United. Conversely, the emblematic Dolce & Gabbana, angered the Chinese youth with a series of capsules deemed racist leading to the outright cancellation in Shanghai of what was to be the biggest fashion show of the brand . If 79% of French people believe, according to an Opinion Way study for the Shopper Observatory of 2017, that brands have a duty to act for society, in particular by taking "part in the public debate to participate in its developments", this commitment must first of all make sense.
The new faux-pas fashion is digital
Among the thousands of tweets and Instagram posts sent every second, each Internet user is the vigilante, masked or not, of an increasingly demanding social justice. Comments and other tweets make and break brand images, each digital faux-pas fashion can be crucial. Dedicated Instagram blogs and accounts amplify these escapades and shake up the rules of the game for hitherto linear and one-sided communication. The next challenge, for any brand and particularly for those in the fashion sector, will be to understand these codes to play with them.
PradaDiet, the Edward Snowden of fashion plaguing Instagram, now has more than a million subscribers including celebrities, media and brands who are as amused as frightened by his revelations. Originally denouncing the copies and plagiarism pinned on the catwalks, the account was offered by Gucci to take control of their Instagram stories during the last Fashion Week to analyze the collection and try to guess the inspirations. A fine example of reappropriation of the new codes.
If social networks represent without doubt a fruitful playground, it is also paved with mines and only the most creative brands, who will know
Vous voulez en parler avec nous ?
Pourquoi ne pas se rencontrer pour échanger autour d'un projet ou d'une technologie ? Nous serions ravis de partager notre vision des choses !
Contact us