The campaign that shakes things up
Know-how
Activation / Campaign
Film and Video
Spotlight on the safety of the Men in yellow
Situation and challenge
The safety of the men in yellow is everyone's business.
Every year, about 30 motorway patrol vans (known as the Men in yellow) are hit on the freeways of the French VINCI Autoroutes network.
2022 was a deadly year, as 4 road or motorway patrolmen were killed in the course of their duties, despite numerous awareness campaigns.
Faced with this situation and a strong feeling of powerlessness, Vinci Autoroutes needed a strong message to make users face their responsibilities.
Strategy
Provoke the emotional shock to avoid the physical shock.
During the summer of 2022, VINCI Autoroutes circulated an exhibition of about thirty crashed vans on 17 freeway areas.
To accompany this travelling exhibition and to raise public awareness of the safety corridor and the dangers faced by patrollers, we have devised a claim that is a cry from the heart of motorway staff.
When are you going to crash?
Objective: to put the road user at the heart of the dangers incurred by the men in yellow, with a double reading message (in French, "percuter" means "to crash" but also "to understand") that addresses them directly to change their behavior and remind them of the importance of the safety corridor.
Strategy of means
Social media
– More than twenty posts to really hack the Vinci Autoroutes social network
– A preventive video that will get the safety corridor message across at key times.
Physical device
– Truck wraps / tarpaulins and backs of trucks, to carry the campaign message on VINCI Autoroutes highways
– Posters with QR code to take users to the page linked to the safety corridor and to educate them
– Exhibition signage
More than twenty posts to really hack the Vinci Autoroutes social network.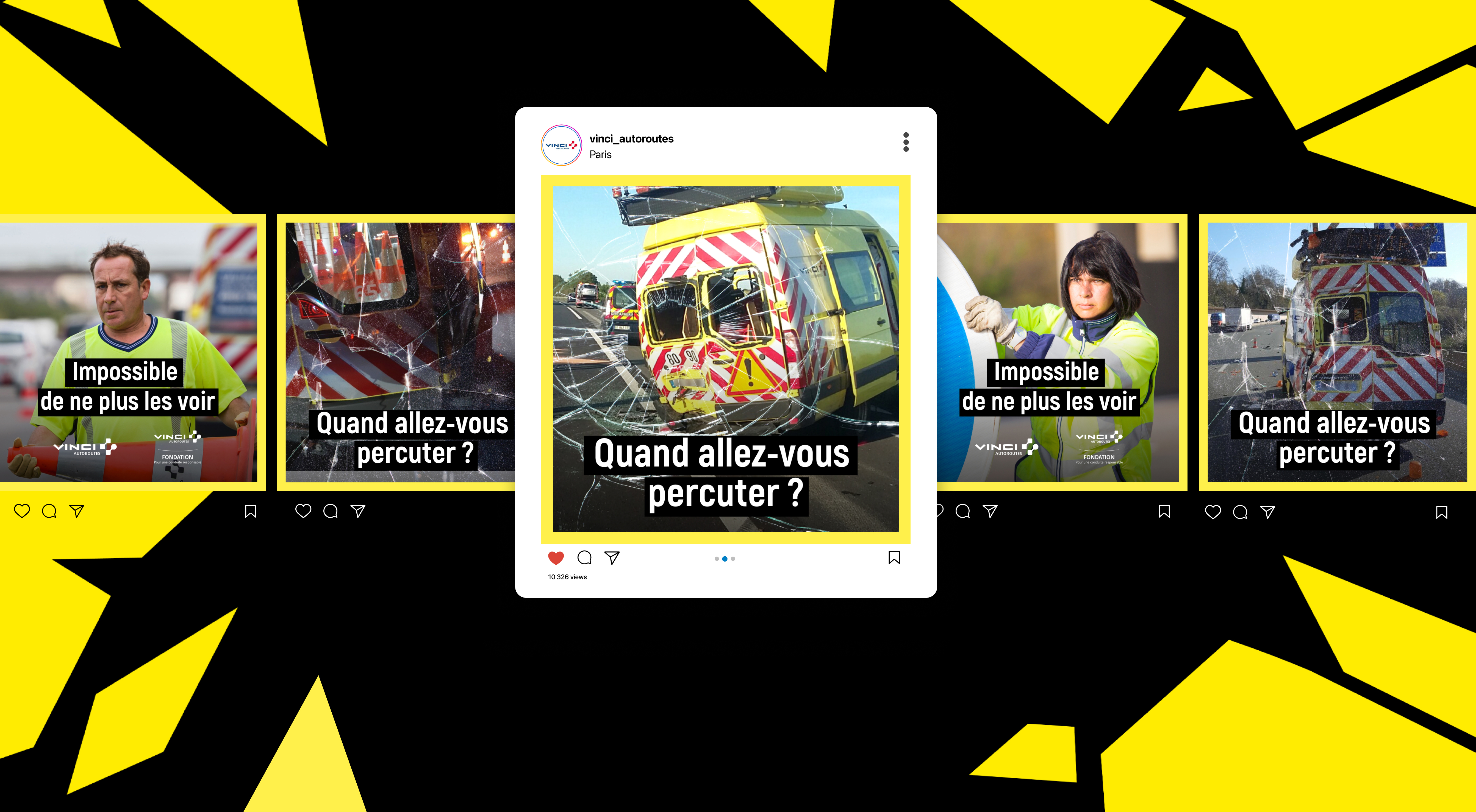 In July 2022, an exceptional convoy, consisting of 18 damaged vans, stopped at 17 VINCI Autoroutes rest areas.