Political thriller and blockbuster to fight against deforestation
Sectors
Associative / environment
Classé F, the audio thriller that lets us hear what you can no longer see.
Challlenge
Cutting the evil at the root
In 2017, the EU was the second largest importer of commodities (soy, palm oil, coffee, cocoa) linked to deforestation. It is responsible for 16% of deforestation associated with international trade.
In 2022, to fight against deforestation, the EU is currently working on a draft law. It should prohibit the sale of products and raw materials in the EU that come from land newly converted into farms or forestry plantations. For this historic occasion, WWF France wishes to sensitize and mobilize French speakers to fight against the very origin of deforestation.
Creative idea
Making ecological discourse desirable through entertainment
Using entertainment via a docu-fiction to make ecology and its message desirable, far from a simple documentary, disaster scenario or science fiction.
Strategy
Classé F, the first audio drama that goes to the roots of deforestation
Marc is a journalist for a well-known daily newspaper, the Journal du Soir. The day he receives a "diary" from a colleague, he does not realize the sensitive information he has. The story of Iris, a young intern at the European Parliament, who tried to play a role in the laws governing deforestation… in vain. The more she reads, the more an inevitable question arises: will she publish the information in her possession, even if it means triggering a scandal with the general public?
Inspired by real and current facts, data, figures and information, the listener is taken in and captivated by what he is listening to. He learns, understands, as the episodes go by that he too has a role to play in reality. It is not too late to act.
Strategy of means
Production of the series
Partnership
Casting and recruitment of actors
Filming, post-production follow-up
Partnership management
Photo / video shooting
Interview
Making of
360° Communication Campaign
Press strategy
Broadcasting of the teaser formats trailer
Design of immersive social formats (Audio Format)
Social media buying strategy
Diffusion of the series' posters
Results
The drama was ranked in the Top 70 Podcast France on Spotify, Apple Podcast and Deezer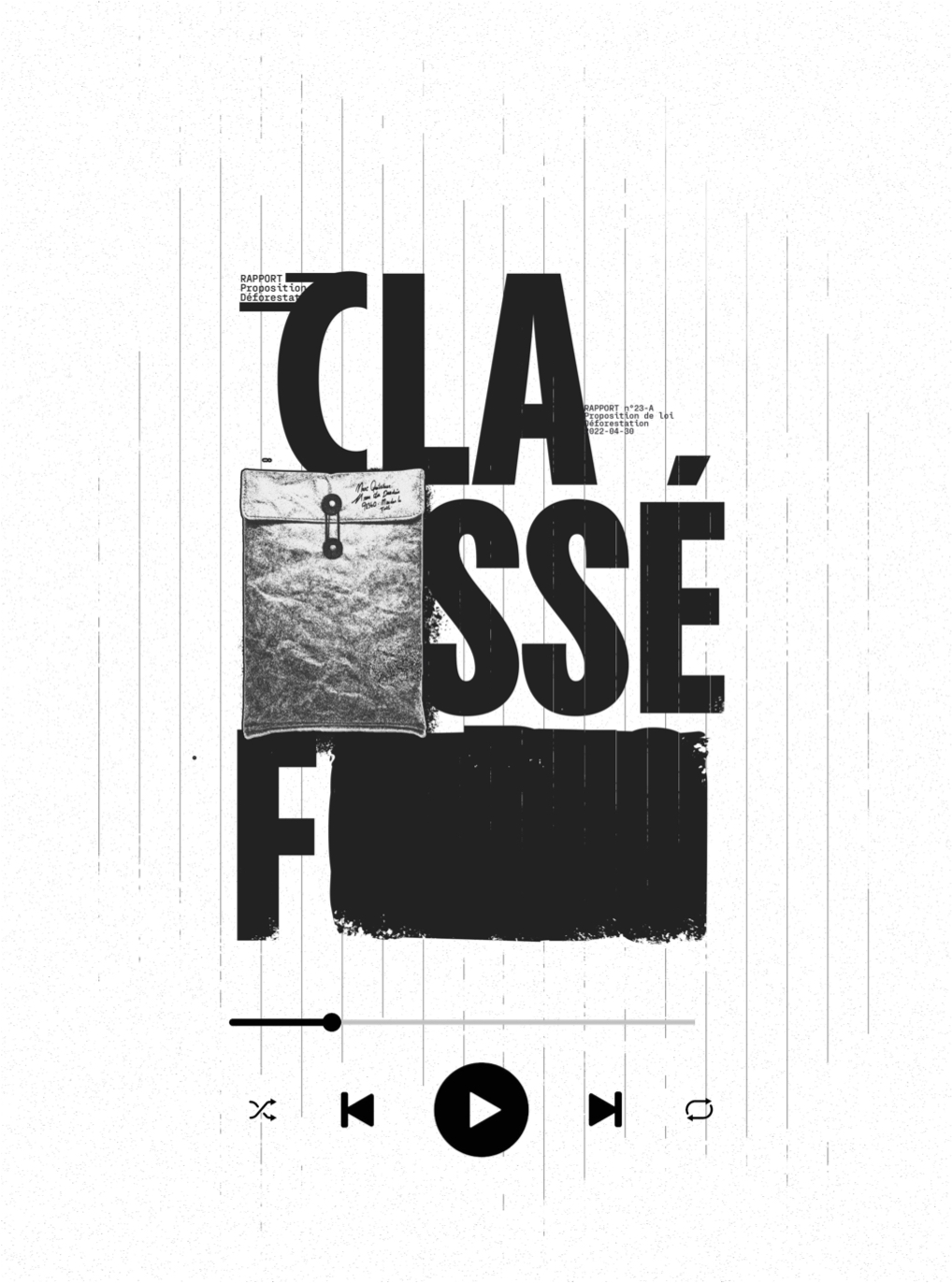 Marc, a journalist for a well-known daily newspaper, receives an anonymous "diary" at his office.
At that moment, he does not realize that he is holding in his hands sensitive information capable of shaking the European political environment in the heart of the European Parliament.
As the diary unfolds, he discovers the story of Iris, a young trainee at the Parliament, who, after making a damning discovery, will do everything in her power to change the law that aims to combat deforestation.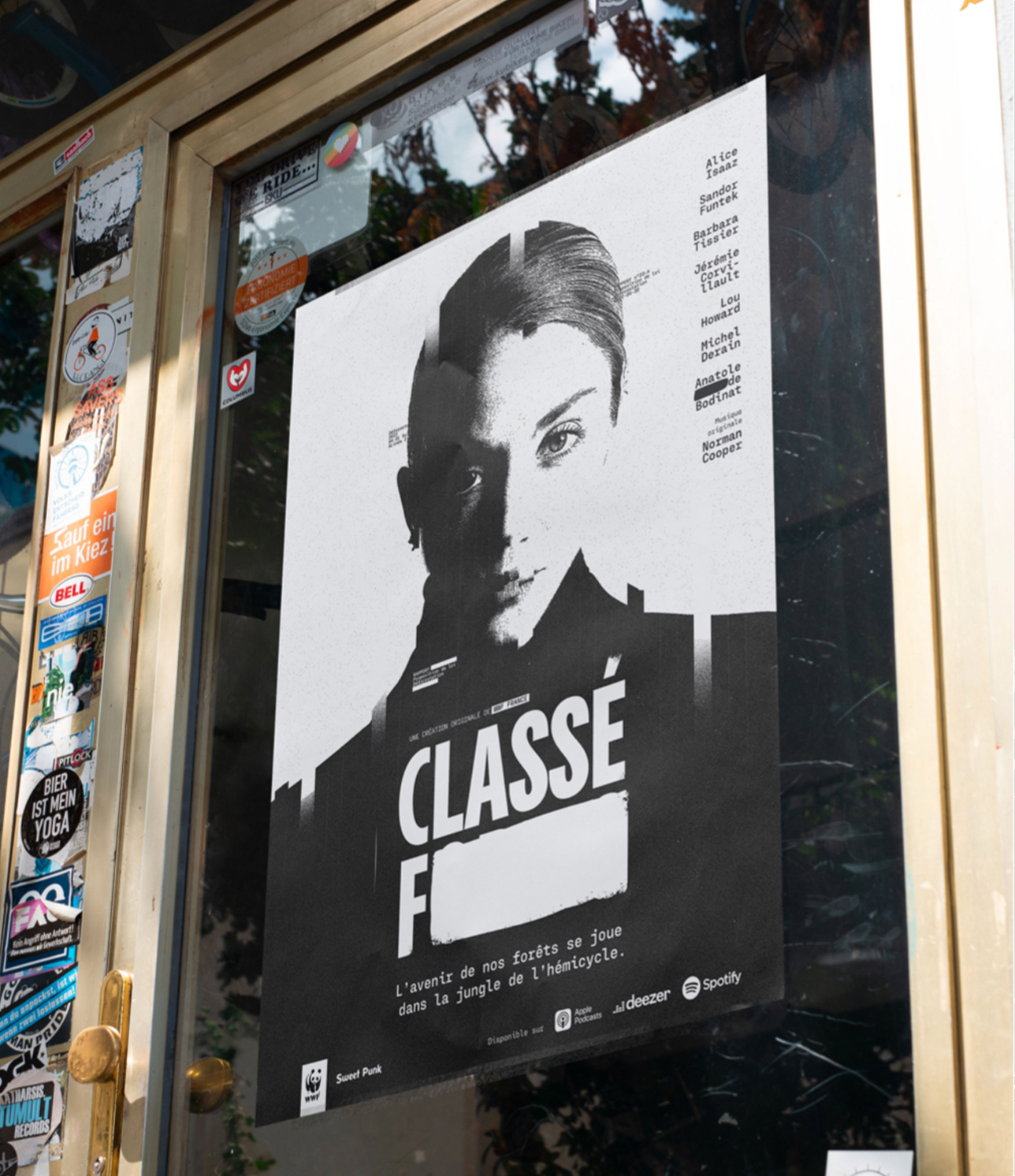 Visuels
Alice et Sandor
Classé F stars a duo of notable French actors: Alice Isaaz (La crème de la crème, Play, La demoiselle de Jonquières, Un moment d'égarement) and Sandor Funtek (Suprême, Contraire).
A scenario transcended by dubbing actors known to the general public such as Barbara Tissier (Cameron Diaz, Fiona in Shrek), Jérémie Covillault (Tom Hardy, Benedict Cumberbatch) or Anatole de Bodinat (Penn Badgley, Dan Humphrey). Familiar voices that plunge us into the heart of the plot.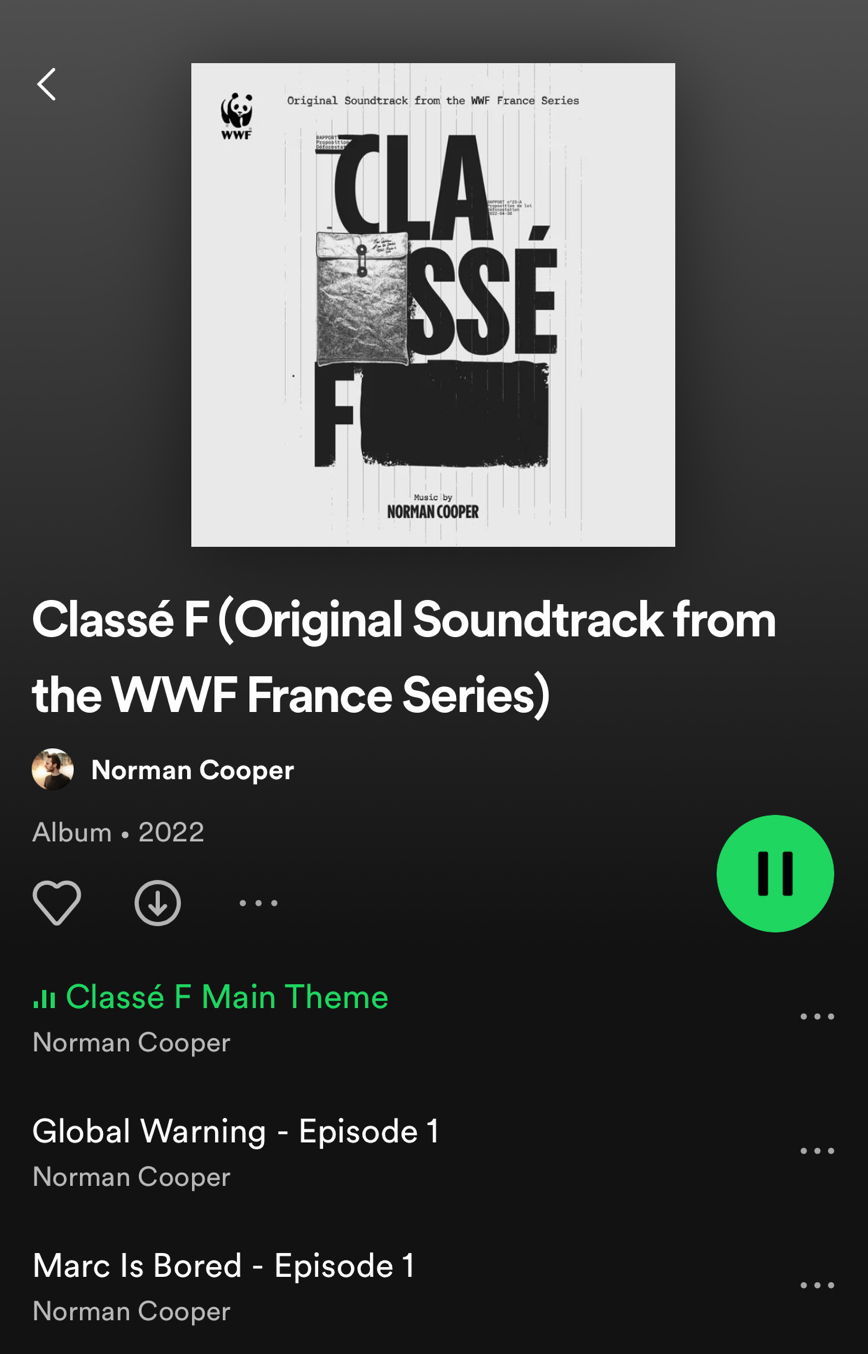 Accompanied by the original music of Normal Cooper, the talent behind the Canal + series: Calls.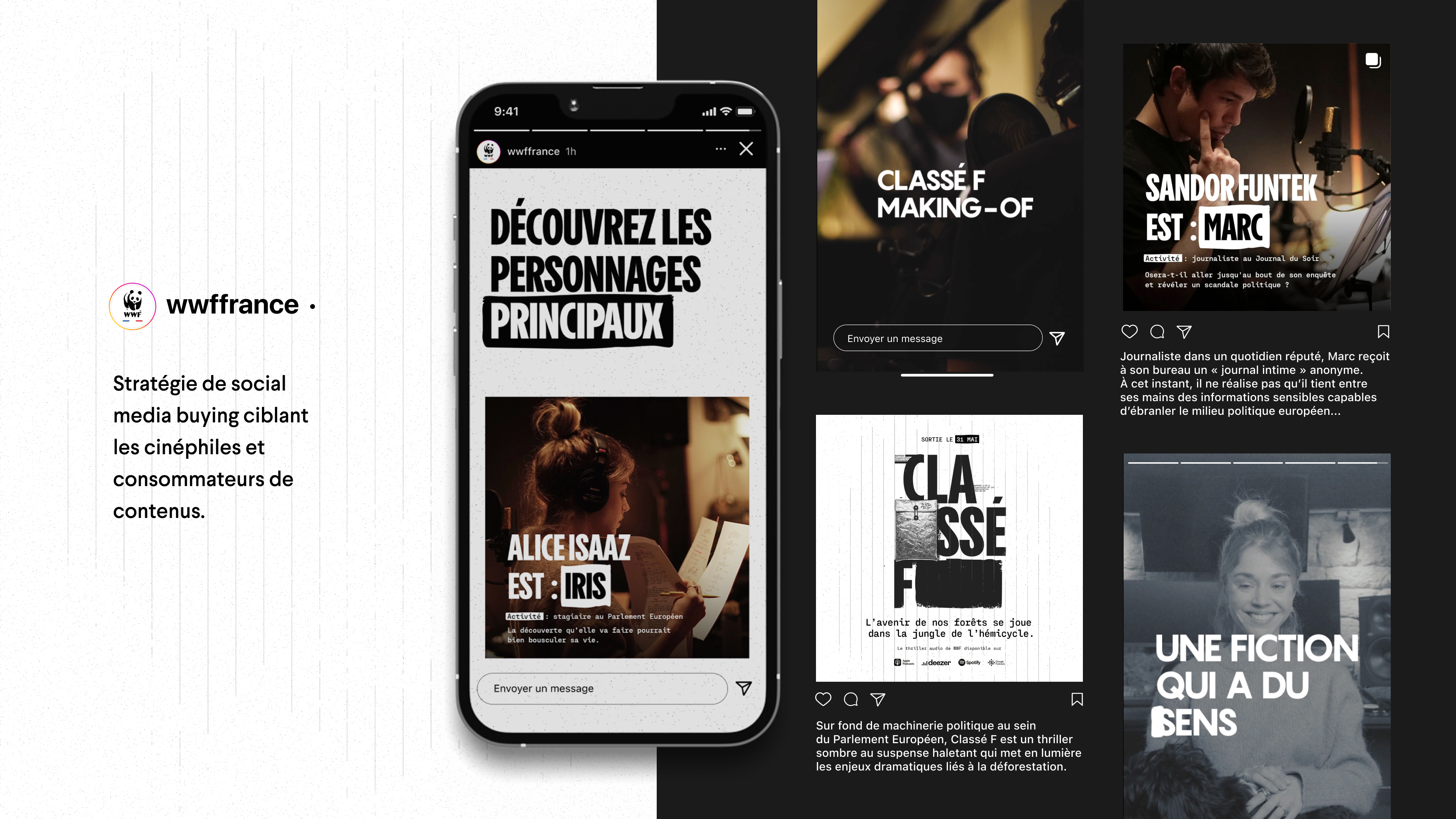 And a campaign to mobilize the European parliaments.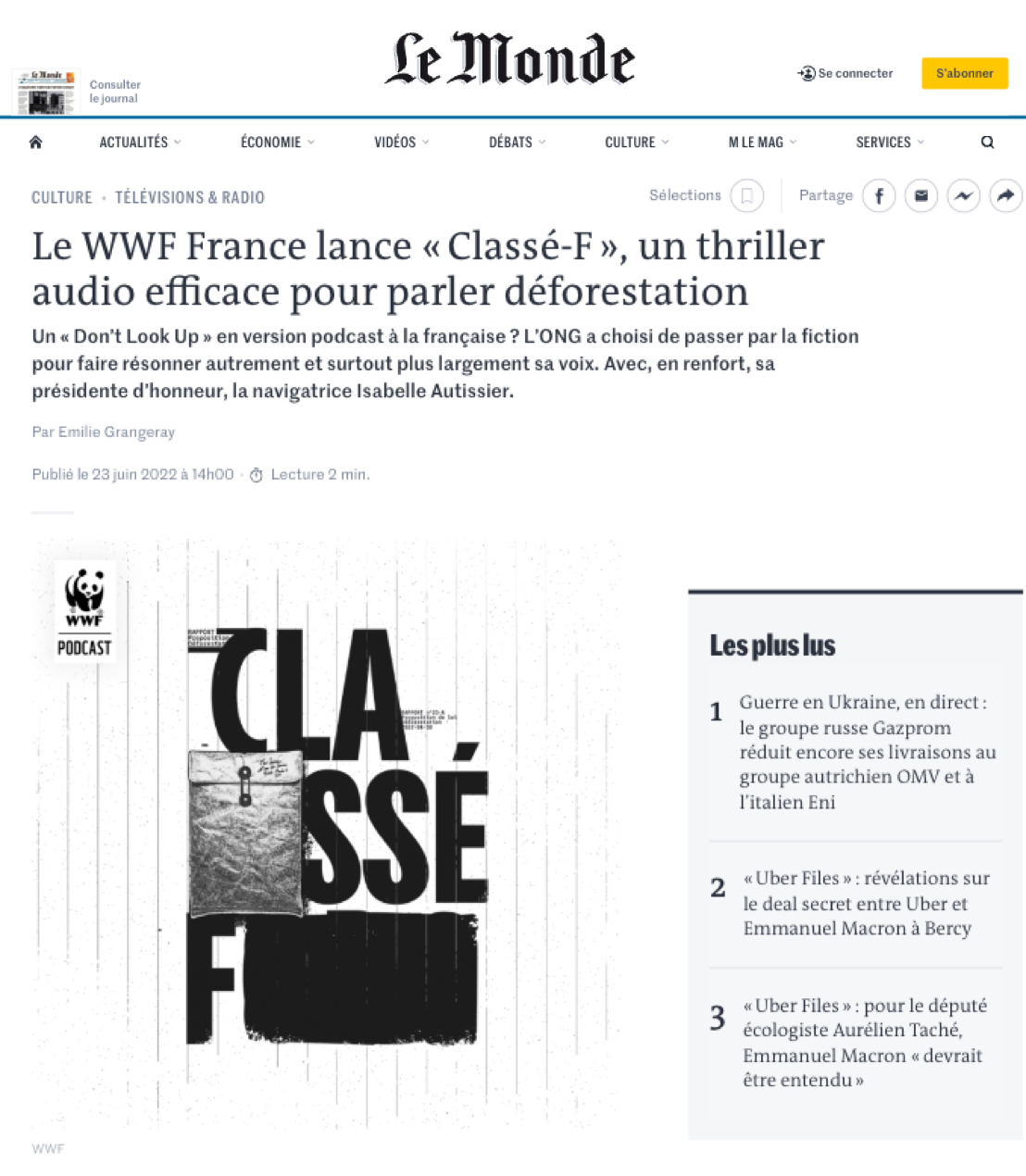 "A French-style podcast version of "Don't look up"?"